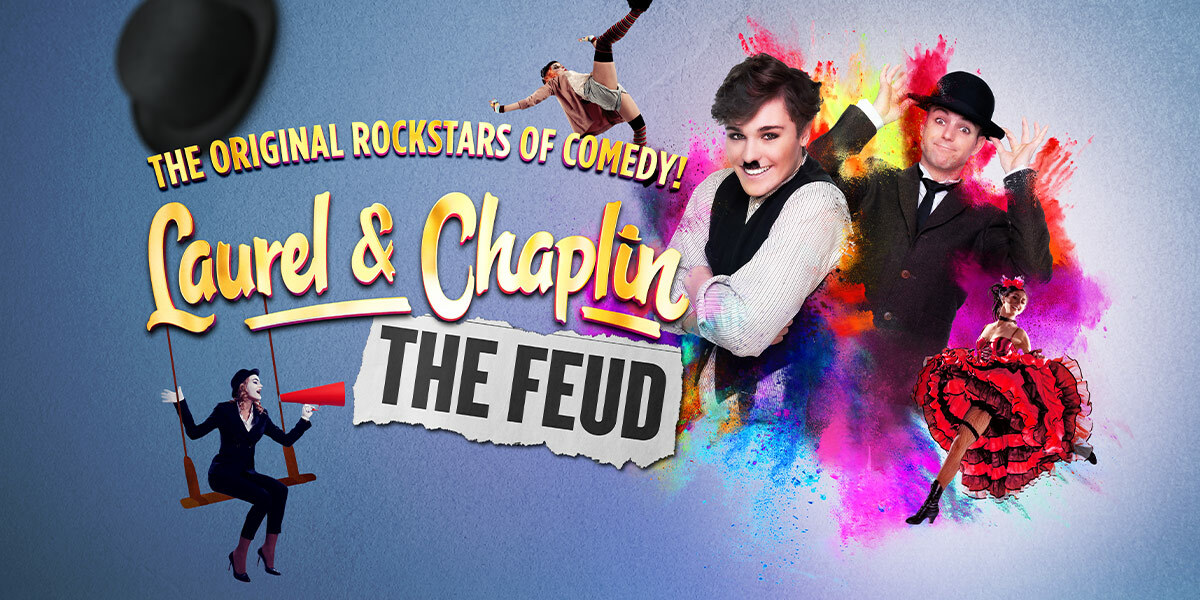 Cambridge Theatre, London
Sorry seems to be the hardest word to say, especially if you're a silent movie star.
Keep me updated
We'll tell you as soon as tickets go on sale:
Forget William and Harry, this is the blockbuster feud of 100 years ago between the funniest and most famous people on the planet at the time. 'Laurel and Chaplin - The Feud' is the untold but true story of teenage best friends sharing a room for three years as they started their careers. Charlie star of the show, Stan his loyal understudy. When Chaplin is discovered by Hollywood, he vows to help Stan if he makes it, but Charlie ignored his best-friend and even when Stan eventually found fame, they never spoke again for twenty-five years. A heart-breaking and hilarious spoken narrative explains 'The Feud' but this compelling story is transcended into something unique by a mix of slapstick, burlesque and cirque suitable for a family audience from a talented cast of eight multi-talented performers. Jon Conway is a veteran producer who has created shows from Broadway to Beijing and London to Las Vegas. With 70 episodes of BBC TV comedy and having created five original West End shows, his current focus is producing large scale arena family shows, including Elf- The Musical. The physical performance skills include aerial silks, adagio, acrobatics, magic, live music, art painting, skating, break-dance, juggling, illusion and mime, all woven into a dramatic play that flips between farce and pathos. The bulk of the comedy has been honed by the lead cast members during200 live performances as 'Crazy Comedy Company' over the last 18months with headline seasons at Edinburgh Festival, Butlins Holiday resorts and Blackpool's Viva Cabaret, to audience and critical claim.
Age restriction
Parental discretion is advised due to adult content and humour
Running time
To be confirmed
Performance dates
24 July 2023 - 28 August 2023
Content
Parental discretion is advised due to adult content and humour